Today I'm introducing Candy Shop: a fun new digital and printable collection.

A warm color palette and a graphic feel make this perfect for any happy occasion.
Candy Shop is my first full digital collection and I'm super excited to share it with all of you. I may have gone a little overboard with 14 journaling cards and another 4 quote cards -- but I can't wait to fill my project life binder with all this happiness! To get you started there are two FREE Project Life printables at the bottom of this page!
All files are 300dpi for perfect quality printing. All journaling card sets also come with individual .jpg files for digital scrapbooking & blog use. The best thing about printables is you can use them over and over again!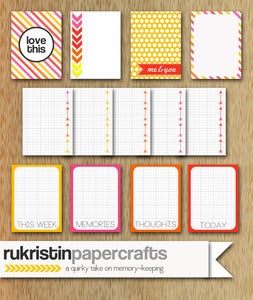 and here are two free project life printables to go along with the Candy Shop collection!
Click on the photos to download each of the .jpg files or click here for a printable .pdf
PS -- People pre-registered for 30 Days of Lists should look for an exclusive coupon for all digital products in my shop! Register today.