Yesterday I was finally able to announce Get Messy --the spring class I'll be teaching over at Creative Soup.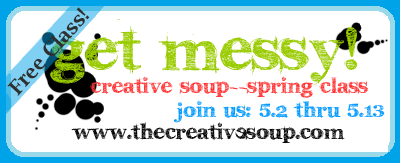 The supply list for the class is up and you can check it out here.
Some of the materials I'm going to be working with:
- Acrylic Paint
- Mists
- Watercolor Crayons
- Modeling Paste
- Gel Medium
- and much more!
I'll leave you with a couple of sneaks to give you a taste of the fun in store! Thanks for stopping by, and remember to head over to Creative Soup for my class!
If you have any questions about the class, please ask---this class is going to be really hands-on, and I love answering any questions that might come up!