30 Days of Lists
is a great online project that I've had the awesome pleasure to partake in over the past couple of years. This September I'll be joining a great group of ladies, leading you through the prompts each day.
Not everyone can make a mini scrapbook every week or an art journal page every night.
30 Days of Lists is our encouragement and challenge to you that you CAN journal just something every day – even something as small as a list.
Every day through the month of September 2012 we will be posting a list prompt – anything from weekend goals to celebrity crushes. At the end of the 30 days you'll have a collection of entries creating a small snapshot of your life right now.
Only 5-10 minutes per day are really needed. While you're waiting for someone, or when you're the passenger in the car. You can even download the list topics ahead of time to get a jump start!
There are several reasons I love the 30 Days of Lists project:
I love making lists. I'm constantly writing stuff out in list form, and lists come very naturally
I love a daily writing prompt that can be completed in just a couple minutes
This gives me the chance to practice my handwriting
The community. A great and supportive community, and you'll be sure to meet new friends!
How do you sign up?
Registration is open!!!
Pre-Registration will go live early on Wednesday morning
--
the first 100 people to register will be entered to win a Freckled Fawn kit (which I know from personal experience are amazing). We are expecting to reach the 100 registrants by mid-morning on Wednesday, so if you're interested in the Freckled Fawn kit, make sure to sign up for the newsletter and watch your inbox!
Everyone who registers before the 14th will be entered in a drawing to win three Kerri Smith books (Wreck This Journal & more), there are also freebies, and discounts from some great sponsors.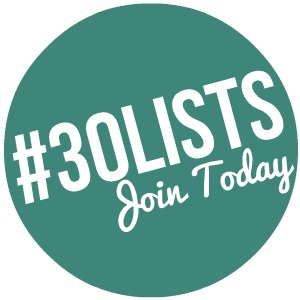 This week I'll be working on my list book for September. I'll be sharing sneaks on twitter and instagram, check those out as well!
PS -- if you don't have instagram/smart phone, I post most of my instagram pics to my
facebook page
.
Have more questions?
Lots more information here!
or leave me a comment/email me, I'll be happy to answer any questions I can!