Today I'm sharing a guest post from Vijiand her thoughts on Project Life
------------------------------------------
Hi Everyone! My Name is Viji and I am happy to be a guest blogger for Rukristin papercrafts. Today I am going to share with you a weekly layout from my Project Life. I have a huge backlog right now. I am stuck in July first week! It is an overwhelming backlog. But, I have broken the whole process into steps to make it easier.
I have already printed out all the photos till October 1st Week. I have arranged the photos in the PL photo sleeves. As of now, I have about 8 PL layouts totally complete. I should have had 12 PL layouts for three months, but I had a few one page weeks and there is a vacation in between for which I am doing a mini album. I don't stress on every week being a two pager! Some weeks I have lots of pics and sometimes I don't. At times my weeks are filled with majority of the photos from one occasion and just a few other random pics. I make it my own:-)
The next step was to start adding journaling spots and all the doo-dads to the page. Once you are done with that, I pick a time when there is no noise (I have a 3 year old boy who can be very needy just when I decide to get scrappy:-) ) and journal. One I finish journaling, I add the dates. I usually never add the weekdays. Just the dates. I always have a lot to write. You will see:-) So here is my page.
We gave Anurag ( my 3 year old boy) a Mcqueen for his 3rd birthday. It was a surprise and he was super excited to see it! I love the bright red thickers. I used die-cuts from Shine by Basic Grey. I love the
Polaroid
transparency! It says 'friends forever'. I used Sharpie to journal on the transparency bubble. I tried stamping on the photo, it didn't work. The photo is printed on Matte paper. I usually do Glossy. I love stamping directly on photos. It looks fab, if it is done right. I tried all kinds of inks. I always have my 6X6 paper pads next to me, when I am working on PL. I prefer not to cut into a 12X12 page for PL. It is either that or scraps from my stash/journaling cards.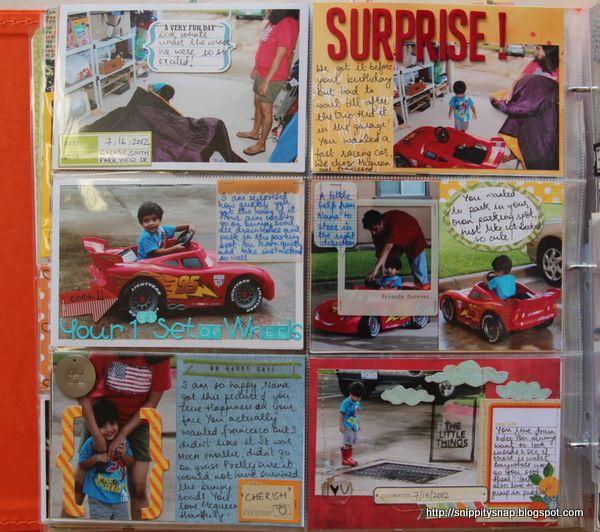 I have a 6X6 insert in this weeks PL. I love inserts! I think it adds an element of surprise to the page and makes it different from the previous one.
Shilpa and Anurag make a great team! They always have a blast whenever she comes home. I used Ali's Edwards Stamp 'remember this'. I love all her stamps. They are perfect for PL! Added a little tag, held by tiny staples for journaling.
Anurag loves to 'Swish-Swish' with the wipers on his car. He asks for water in a cup everyday. He then pours water onto the wipers and does 'swish-swish' to wipe it off. Just like the rain! I had cut out the tab for another project. I used that gap to add a sentiment. The 'What's Up' pin is by basic grey. I am loving all their new collections at Joann's. Pretty cool! I also added the freckled fawn arrow washi tape. Isn't that tape wonderful!!
For the Second half of the page, I used Design G by Becky Higgins. I love this design and tend to use it a lot. I added a 'You are Here' tag by Knock-Knock for the playroom pic. It was too big to fit in the sleeve, so I have just glued it on the outside. I think it will stay in place. The photo of Sid(my hubby) kissing Anurag is so adorable. I just had to put that in. I added a Amy Tan sticker on it and a little transparency bubble to add journaling. I also added the cutest pin ever, the clothes hanger with a tag for journaling by basic grey on the pottery photo. I love that pin, it is sooo adorable! The 'You said What?' card is by Pebbles. Worked perfect with the photo of Anurag inking the edges! LOL, someone watches me closely ;-)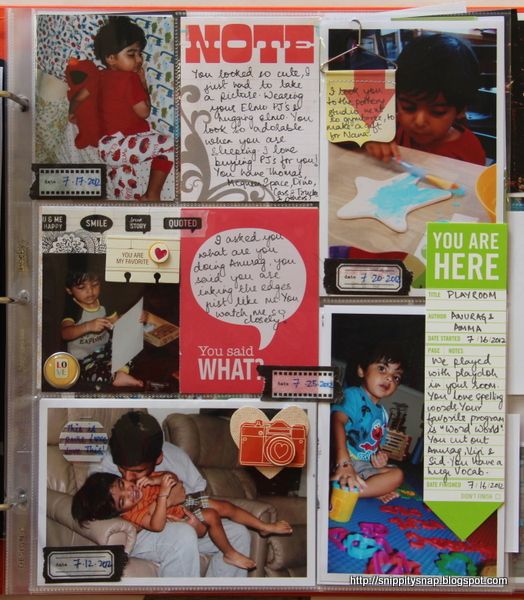 For this layout, I have used die-cuts and embellishments by October Afternoon,Pebbles,Basic Grey, Knock-Knock,American Crafts, Freckled Fawn, Doodlebug,Sassafras, among various other. I have used papers from different manufacturer's. I love to mix and match. My PL is absolutely colorful, just like my wardrobe!! PL is very personal and I believe there is no wrong or right. It is fun to make it your own.
I would love to see your PL pages as well. If you are behind on PL, share your tips to catch up. I would love to know! Please share a link in the comments! I can't wait to see your pages:)
I am found at my blog 'Snippitysnap's Scrapalicious World'. I would love for you to visit me. I live in houston and am married to my college sweetheart who totally supports my crafting! I have the most adorable little person in my life, my 3 year old boy 'Anurag'. My family loves looking through the project life album. It has become a huge part of our life!
I thank Kristin for giving me this guest blogging opportunity! I hope to bring you something new next week! Have a good weekend and keep those PL pages coming!