Today's post is a guest post from up and coming scrappy blogger Christine Cieri. She's sharing a beautiful completed Handbook mini album from her recent vacation to Key Largo. I'm so excited to show off her fantastic project! Make sure to leave her a comment and let her know your favorite part!
--------------------------------------------------------------------------------------------------------------------------------------------
Hiii everyone! My name is Christine and I'm so excited to be guest blogging here at Rukristin papercrafts. Today I'm going to share with you a vacation mini album I created and I hope you enjoy!
I started scrapbooking in 2005 when I was a senior in High School and I got my first digital camera. I still remember buying that first camera and wow, it changed my life. I am an avid scrapbooker and can't imagine doing anything else I love more in my spare time. I l.o.v.e. scrapbooking and preserving my memories this way instead of keeping them in a unsorted box. I enjoy doing mostly layouts, mini albums and Project Life (just started this year!).
If you'd like, come follow me at http://christinecieri.blogspot.com/ and see more.
When you get back from vacation are you as crazy as me? Do you
want to just look at all the pictures and memories you captured and then get them into a book? I DO! I just finished up a family vacation to the Florida Keys and couldn't wait to do a mini album capturing all the little details..
For this project I used a lot of new collections, bits and pieces from each. I knew I wanted to use Studio Calico's Sundrifter

collection as the colors and well, the name of the line are just perfect for a Florida vacation. The new

Yes, Please</ span> by American Crafts (Amy Tangerine) was also a must for the fun bright colors. I used a few bits and pieces from the Dear Lizzy Lucky Charm collection as well and then hit up my scrap bin and a few of my everyday favorites I always fall back on.
For embellishments, I fall back on
washi
tapes,
enamel dots
and wood veneers. I have a weakness for wood veneers and always seem to add them to anything I'm working on. Does anyone else have any product that they can't live without in their works?
touch a crab, ouch!
happiest places. The Salty Sea was a perfect fit in my eyes. I used Aqua
Zing embossing powder and cut the "salty" with my Silhouette Cameo. The
some more papers from Yes, Please and mini letter stickers from the Sundrifter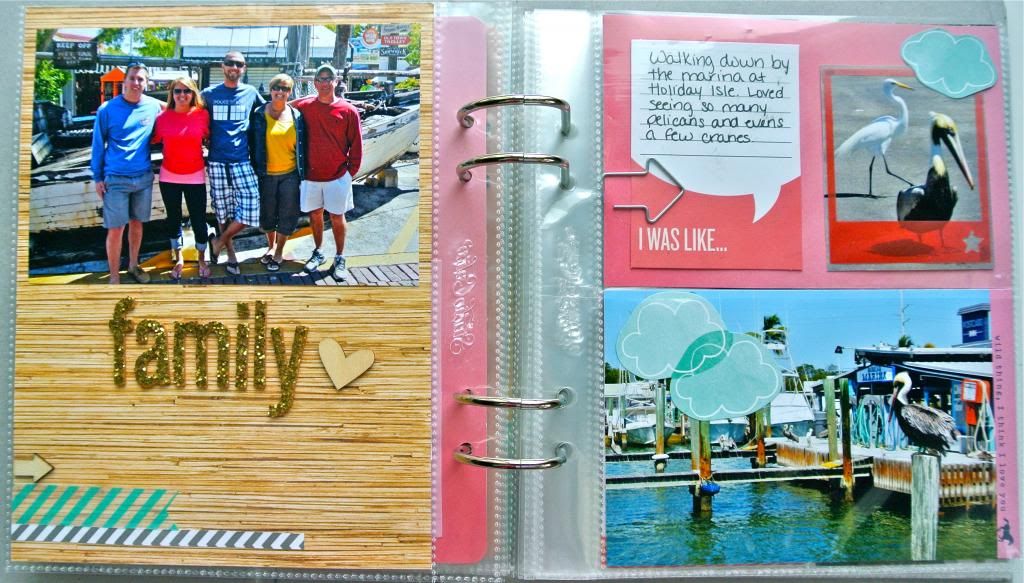 Here is a great picture of me and my family in front of the boat in Key
West that we've taken pictures in front of for years and years. It's really great
when some things don't change...I used the glitter stickers from the Maggie Holmes
collection
. As for the right side, pelicans! Need I say more? I added a few more stickers
from the Yes, Please sticker book, a vellum polaroid and enjoyed the simpleness.
And to finish it all off, a day in Key West. I used Yes, Please
products for these pages mostly, some wood veneers and enamel dots! The
last page will be something more personal just an ending to a great trip
What do you love to scrap the most? I personally tend to love the vacation layouts and mini albums.
Thanks for looking and I hope I've inspired some of you to go make a mini album of your own!
Remember to check out my blog for lots more inspiration!