Here are a few of the cool things going on at rukristin papercrafts:


The Currently Journaling Challenge
Currently
is a weekly journaling challenge
designed to
fit in perfectly with Project Life. It can also easily be tailored to fit whatever your personal memory-keeping style is.
Every Friday, I share my Currently list journaling card here on my
blog
, as well as on various social media sites like
Twitter
,
Instagram
, and
Facebook
.
Journal the Everyday: Mini-Book Kit & Online Class
Journal the Everyday
is a self-paced online course designed to guide you through creating a 30 page mini-book with an emphasis on documenting the day-to-day moments in our lives.THIS IS THE KIT I'M USING FOR 30 DAYS OF LISTS!
Project Life
I'm excited to start
Project Life
again in 2013. This will be my second year working on this project and no matter how long you've been at it; Project Life will always be a learning experience. In order to be successful at
Project Life
, you need to make it work for you -- Join me in figuring out how to integrate this fanastic memory-keeping system into our lives.
rukristin papercrafts shop
Lots of Project Life and Journaling Card printables
are available both in my
shop
as well as brand new digital items and a class kit! I'll be expanding my shop in the future -- sign up for the rukristin papercrafts
newsletter
for a special shop offer!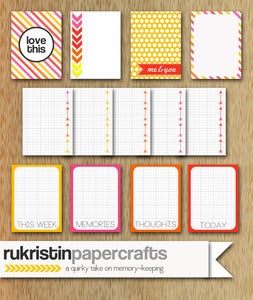 One Little Word: Write
This year I want to write more. I want to make writing an integral part of my life. For me, my writing goals take several forms, blogging, journaling, currently list, making a big effort to improve the way I write about myself and more. Follow my progress throughout the year as I try to become a better writer.
Stay up to date with rukristin papercrafts by subscribing to my
blog
or
newsletter
. Keep in touch with me on
twitter
,
instagram
, and
facebook
!
A little bit more about me and the stuff that keeps me super busy
I think that really sums up what I'm going for. Not just scrapbooking, or paper-crafting, or another crafty blog -- but me, and the way I do memory-keeping. iPhone pictures, lists, social-media, all the stuff that gets used on a day-to-day basis. Which will hopefully inspire other people to do the same. So going forward, along with the scrapbooking and paper-crafting posts, I'll be talking a lot more about everyday ways to supplement your memory-keeping. Whether it be journaling prompts, social media tips, handwriting techniques, and whatever else comes along.
(February 2013)